About Ghost Ranch
Education & Retreat Center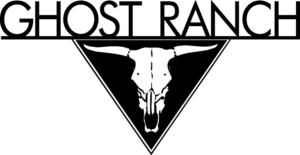 Ghost Ranch, an Education & Retreat Center, nestled amidst the breathtaking red and yellow cliffs of the Piedra Lumbre, is where vibrant colors dance to life, and the intersection of history and spirituality is discovered.
From captivating archaeological sites to invigorating outdoor activities like hiking and horseback riding, Ghost Ranch provides a sanctuary for exploration, rejuvenation, and the nurturing of one's inner self.
With a diverse and storied past, which encompasses the majestic era of dinosaurs and the artistic presence of icons like Georgia O'Keeffe, Ghost Ranch warmly welcomes individuals from all corners of the world who seek inspiration, connection, and a profound sense of wonder within its transformative embrace.
The 21,000-acre Ranch is owned by the Presbyterian Church (U.S.A.). Since 2018, the ranch's facilities and programs have been leased to and managed by The National Ghost Ranch Foundation, Inc., an independent, 501(c)3 non-profit organization.
MISSION
Ghost Ranch stewards a place of great beauty to nurture the human spirit and mind, discover the sacred, and care for creation.
VALUES
These values guide the work of the staff team, volunteers, and board members of Ghost Ranch, and we hope will be experienced by participants in ranch programs.
Sustainability
Honoring the land, caring for the earth
Respecting local communities and their history
Cultivating a culture of financial generosity
Inclusivity
Welcoming racial, cultural, and religious diversity
Affirming people of all abilities, identities, and ages
Forming community with people in all stages of life
Equity
Being just, responsible, and accountable
Working with transparency and integrity
Demonstrating fairness as an employer, host, and neighbor
Creativity
Encouraging and fostering artistic expression
Facilitating dialogue and exchange of ideas
Stimulating curiosity, innovation, and scientific research
Spirituality
Welcoming diverse faith traditions and religious practices
Engaging in prayer and song, study and inquiry
Being transformed by the sacred in each other and the land
The world‐famous site known as Ghost Ranch is a place of magnificent natural beauty, comprising deep, multicolored canyons and bluffs, plains, grasslands and streams. Its rocks span 130 million years of ancient geological history, representing lakes, floodplains, and deserts. Its fossils illuminate the beginning of the Age of Dinosaurs in North America and provide a new paradigm of how they took over terrestrial ecosystems for the next 150 years. Its archaeological record predates adobe walls and kivas; its hearths and other sites date to 8000 years ago.
Its history includes a Spanish land grant, Mexican, French, and Anglo colonizations, a rough‐and‐tumble ranching period, a dude ranch, a conference center, and the longtime residence (and subject of the paintings) of Georgia O'Keeffe. The ancestral sediments deposited 200 million years ago, when the region was much closer to the equator, have over eons eroded out and in turn attracted first ancient people, who used the resources of the landscape, and later colonizers from other lands, including artists, adventurers, and entrepreneurs who were attracted by the stunning beauty.
Like Georgia OʹKeeffe, they were at first oblivious to the geological and paleontological contexts of the sediments, and were simply amazed at the scenery. But so many of those who have come into contact with Ghost Ranch have come to appreciate its myriad dimensions of beauty and spirituality.
In short, Ghost Ranch is a unique combination of natural beauty, geology, paleontology, archaeology, history, and art. It is not just the values of each of these separate aspects of Ghost Ranch's resources, but rather the synergy of its beauty, its scientific value, its cultural and historical traditions, and its spirituality that make it like no other place in the world.
Generously given to the Presbyterian Church in 1955 by philanthropists Phoebe and Arthur Pack, the Ranch preserves its heritage by harmonizing art, science, and spirituality. It is a place where individuals from diverse backgrounds converge to create, reflect, and rediscover their inner selves. In 2017, the operations of the ranch transitioned to the National Ghost Ranch Foundation, a standalone 501(c)3 non-profit organization
Ghost Ranch awaits, ready to guide you on a transformative journey through the remarkable tapestry of its history.